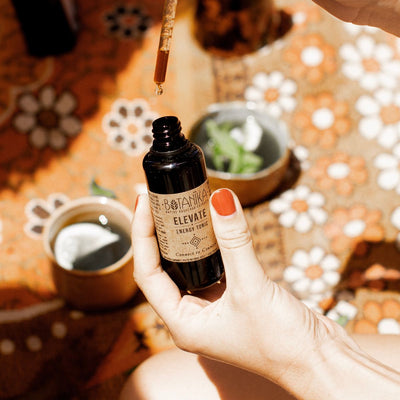 Welcome to Botanika Herbals...
We are a small group of passionate herbal alchemists from Byron Bay NSW + Daylesford VIC. Our native Australian superfood tonics  restore balance + harmony through connecting people to the medicines of the land, which in turn creates a powerful positive impact on our external Environment. As we clear all that no longer serves us on our journey we allow space for the new way forward, connected to all that is, inviting in powerful change into our lives. In unity with the Elements within us + around us.
We care about acknowledging + building relationships with the Ancestors of the land so we can walk this path with respect + integrity. Working with indigenous growers + ethically sourced Australian native plants, we apply biodynamic principles + an Alchemical process known as 'spagyric extraction' which mirrors the cycles of nature to ensure a high potency + quality tonic, made wholistically so you feel the transformational benefits of the entire plant.
Nothing is discarded, so this means you are receiving all the information + healing energy of the animals, minerals, plants, seasons + elements that have interacted directly with the botanicals since they were planted as a seedling in the Earth. Listen deeply to the messages you receive while meditating with them, as you feel your senses activate + awaken in the presence of the moment.
- CONNECT TO COUNTRY -
We believe in honouring & paying respect to the original custodians of this land.
As well as working with indigenous owned business' we additionally give back in many ways to country & our families both financially & on the ground action.
The vision is to empower & offer our resources to indigenous business' who are practising traditional land management + cultivation of native medicines for the future benefit of the younger generations.
Thankyou for helping us to make a positive impact + supporting this project so close to our hearts. We acknowledge Mob as the original custodians, true sovereign beings of Gondwana. We respect Elders past, present & emerging, and the Ancestors of the lands we walk upon, always listening deeply to their guidance on our path.
We honor that the originals have been the caretakers of this land for more than 60,000 years + respect their traditions.
SMALL BATCH PRODUCTION
Because we use minimal amounts of plants unlike large companies or major corporations, we only yield around 50 batches per release as it is our intention to only use what we need. We work with Aboriginal owned business' & local organic farms to harvest only what is in abundance, nothing that is endangered. These practices align with traditional protocols + our values of micro not mass or commercial production. Our products will not be exported + are only available within Australia. Please share with close family + friends as this is a very sacred offering, dependent on seasonal harvesting + supply. Each batch is unique in its flavour, colour & essence as we honor the expression of each season. We go with the flow of nature, as it is intended.
21 DAY CYCLE PLANT EMBODIMENT
For anyone who purchases our tonics, we offer a complimentary 21 day cycle plant embodiment journey that you can choose to embark on if you wish. This will assist you to embody the wisdoms of the plant within your entire being, awakening + attuning your senses, connection to nature + self. The 21 day cycle can help you to integrate at a deeper level + you can track your own emotional, spiritual + physical progress. We also have a community support group so you can connect with others who are on the same path. Please enquire within if you are drawn to this experience.